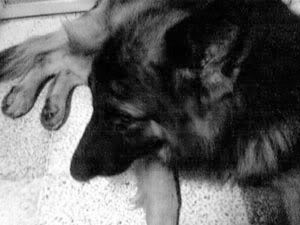 May 10, 1997 – September 3, 2006
Talking to Grief
Denise Levertov

Ah, Grief, I should not treat you
like a homeless dog
who comes to the back door
for a crust, for a meatless bone.
I should trust you.

I should coax you
into the house and give you
your own corner,
a worn mat to lie on,
your own water dish.

You think I don't know you've been living
under my porch.
You long for your real place to be readied
before winter comes. You need
your name,
your collar and tag. You need
the right to warn off intruders,
to consider
my house your own
and me your person
and yourself
my own dog.
I woke up today only to be told that my dog of nine years died while I was asleep.
This sense of loss – I'm still crying since seven in the morning. How do we deal with this exquisite pain? He was more to me, of course, than just a dog. All I could think of now was all those times that I wasn't there, what could have been.
But do we cry because our loved ones has been through terrible pain, or because we are left alone now? This selfishness, this gaping emptiness. He was the only one who can sit beside me all those midnights when I can't seem to quite handle myself, and nuzzle closer to me while I'm smoking and crying and listening to my other sad neighbor play Bach.
Nine years. I never realized how much a part of my life he has been, and maybe this is why I am crying so hard today. The regret. It's always in the end, as they always say, always in the last of things, the familiar tinge.
All that I love.